March 2013
---
Jeanne M. Kinney - 1937-2012
Jeanne Kinney, President and one of the founders of Friends of Adin Ballou, passed away on December 28, 2012. She will be greatly missed.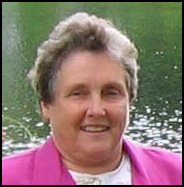 Jeanne at the FAB Peace Picnic in 2005
Jeanne M. (Woolever) Kinney, 75, of Hopedale, Massachusetts, died Friday evening, December 28, 2012, at the Mease Countryside Hospital in Safety Harbor, Florida.

She was born on June 5, 1937 in Syracuse, New York, the daughter of the late Francis and the late Frances (Hanley) Woolever. She graduated from St. Anthony of Padua High School in Syracuse, New York, earned a Bachelor of Arts degree from LeMoyne College, and a Masters degree from John Carroll University.

Jeanne taught English to inmates at Framingham State Prison for 17 years, and she co-founded Friends of Adin Ballou, a peace organization seeking non-violent solutions to conflict in the tradition of the early Hopedale Community. She was an advocate for restorative social justice and non-violent conflict resolution. She enjoyed organic gardening and helped establish the Community Gardens in Sharon, Massachusetts, where she lived for many years.

Jeanne believed in living simply as a follower of Christ. She was a Catholic and a member of the Society of Friends (Quaker). She was an original member of the Uxbridge Friends Meeting.

"May God give you peace..." St. Francis of Assisi

-- courtesy of Edwards Memorial Funeral Home, Inc.
In memory of Jeanne, a community garden is being planned at Hopedale Junior/Senior High School. In addition to being an "edible classroom" for the students, the garden will be provide fresh vegetables for the food pantry. The project is a tribute to Jeanne's commitment to education, her interest in organic gardening, and her generous spirit.
---
Second Annual FAB Peace Essay Contest
The Friends of Adin Ballou are sponsoring an essay contest for students in grades 7 through 12. Students are invited to write a 250-word original essay on one of the following topics:
What does peace mean to me?
How can one person help spread peace?
What I will do for peace!
Entries should be emailed by April 23, 2013 to: Editor@adinballou.org. First prize winner will receive $100, second prize $50, and honorable mention $25. The winning essays will be featured on the FAB website.
Nothing new under the sun?
When FAB initiated the Peace Essay Contest in 2012, little did we know that we were reviving a century-old tradition. Hopedale historian Dan Malloy points out that a peace essay contest is nothing new in Hopedale. This page from the 1912 Hopedale town report tells of an essay contest for high school students, with prizes for the three best essays on "any phase of the general subject of universal peace."

Like the Patrick family who sponsored the earlier contest, we hope to "direct the thoughtful attention of many young people to a question of prime importance for all civilized nations." We couldn't have said it better ourselves!


From the Hopedale town report, 1912
(picture courtesy of Dan Malloy)
For more Hopedale history, visit Dan's Hopedale website
---
FAB Fall Lecture
It's still half a year away, but plans are underway for the 2013 Fall Lecture. Michael Boover - a conscientious objector, peace witness, Catholic worker and author of Fifteen Days of Prayer with Dorothy Day - has been invited to give the Fall Lecture on October 20, 2013. The working title of Michael's lecture is "Building a Culture of Peace." Watch this space for more information!
The 2012 Friends of Adin Ballou Fall Lecture is on YouTube, courtesy of Hopedale Cable.
---
Points of Light
FAB to Take Part in Celebration
of the 100th Anniversary of the Peace Palace in The Hague
Friends of Adin Ballou has been invited to participate in the Peace Palace Centenary Project in celebration of the 100th anniversary of the opening of the Peace Palace in The Hague, Netherlands. Project director Hope May writes:

The Peace Palace

I am wondering whether you know that August 28, 2013 is the 100th anniversary of the Peace Palace in The Hague, Netherlands. The Peace Palace was built with funds provided by Andrew Carnegie to provide a proper symbolic home for the Permanent Court of Arbitration (PCA) which was, at the time, believed would end war. In fact, the Court is still there, though I am afraid that much like Adin Ballou, few people know about it...

[As director of the] Peace Palace Centenary project ... I help a number of strategic partners called "Points of Light" organize some educational event connected to the moment. These partners include schools, student groups, and organizations. Each Point of Light is sent a beautiful box (called a "Treasure Box") of educational and promotional materials that it then uses to develop and promote its own educational event(s), the bulk of which will occur in the fall of 2013.

By participating in the project, FAB will become part of an international network of "Points of Light." There are Points of Light in the United States, South Korea, Italy, Spain, Canada, Netherlands, and more to come. In the coming months, this site will provide more information about the project and our participation in it.
The leader of the U.S. delegation to the 1899 Hague Peace Conference, which established the Permanent Court of Arbitration, was Andrew Dickson White, a U.S. diplomat and first president of Cornell University. White was also instrumental in persuading Andrew Carnegie to donate the funds to build the Peace Palace.

Friends of Adin Ballou know Andrew Dickson White as the U.S. ambassador to Russia, who interviewed Tolstoy and noted, with amazement, Tolstoy's opinion that the greatest American writer was - none other than Adin Ballou!


Andrew Dickson White
---