July 2013
---
Introducing...
The Winners of the 2013 Friends of Adin Ballou Peace Essay Contest
First Prize Winner: Jeanelle Wheeler
Jeanelle Wheeler is a junior from Auburn, Massachusetts. At Auburn High, she's a member of Model UN and principal clarinetist for various music ensembles. Furthermore, since her freshman year, Jeanelle has been a first-team all-star selection while playing first singles for Auburn's varsity tennis team. She also tutors, co-hosts a radio show for the blind, and volunteers at her church and local libraries. She has written and illustrated a children's story called The Ice Cream Challenge about prejudice and discrimination and presents her book and its message throughout the community. In addition, she has earned the Girl Scout Gold Award, the highest award in scouting.
Jeanelle has been recognized for her writing at both the state and national level in the Scholastic Art and Writing Awards for the last four years. Furthermore, she was a first-place national winner in Amnesty International's 2011 "Change Our World" essay contest. For her peacemaking efforts, in 2012 Jeanelle received the John Leary Youth Peacemaker Award from Pax Christi Massachusetts and the Youth Leader Award from Worcester's Center for Nonviolent Solutions. This year, Jeanelle was the Massachusetts state winner of the prestigious National Peace Essay Contest and participated in a five-day awards program in Washington D.C.
Jeanelle also loves traveling and studying languages. She hopes to dedicate her life to making the world a more peaceful place through writing, teaching, and social justice activism.
Second Prize Winner: Maia Hibbett
Maia Hibbett, of Upton, Massachusetts, loves reading, writing, languages -- and horses! She rides competitively as part of a show team that specializes in eventing, which is the kind of riding that competes in three phases: dressage, stadium jumping, and cross-country jumping. She usually spends five or six days per week at the barn or off property riding, working, and competing.
Once a week Maia goes to another barn where she volunteers with therapeutic riding. She helps with the farm chores and helps by leading horses and side-walking for kids with mental and physical disabilities including autism, Down syndrome, and cerebral palsy. Maia says, "Work there is incredibly rewarding because after working with the same kid for several weeks or months, I often see improvements in their speech, motor skills, and balance."
To write her peace essay, Maia drew inspiration from one of her favorite paintings, Guernica, and her favorite book, The Catcher in the Rye. Maia writes:
I first saw the painting years ago in one of my elementary or middle school classes while we studied Spanish culture; I have been in Spanish immersion since kindergarten. The painting stuck with me because of the bleak, dark colors and distorted figures that allow it to effectively portray anguish. Because Guernica depicts an interpretation of war that is not literal, I thought it would serve well as an example in my essay. I decided to use The Catcher in the Rye in my essay for a couple of reasons. Primarily, I wanted to use the quote that I attached as an epigraph. I also thought that using an example from literature would provide a good balance with an example from art, so that the essay would not become one-sided.
You can read all the Peace Essays here.
---
Coming Soon...
Hopedale's Annual Peace Picnic
Continuing a tradition that started back in the days of the early Hopedale Community, Friends of Adin Ballou will hold a Peace Picnic in Adin Ballou Park in Hopedale, on Sunday, August 4, 2013, from 3 to 5 p.m. The winning essays from the Peace Essay Contest will be read aloud. As usual, there will be an open mike for poetry, social justice statements, and songs of peace and protest.
Please bring: 1. A chair or blanket. 2. Food and drink. 3. Your friends!
---
Virtual Open Mike
Last Night I Had the Strangest Dream
"Last Night I Had the Strangest Dream" was composed in 1950 by Ed McCurdy (1919-2000).
In 1980 it was named the official song of the Peace Corps.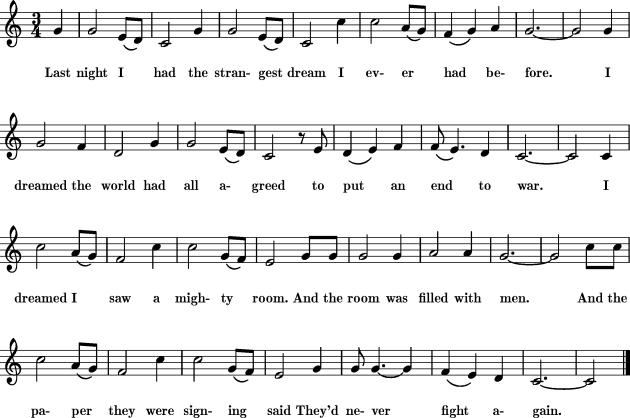 Last night I had the strangest dream I ever had before.
I dreamed the world had all agreed to put an end to war.
I dreamed I saw a mighty room, and the room was filled with men.
And the paper they were signing said they'd never fight again.
And when the papers all were signed, and a million copies made
They all joined hands and bowed their heads, and grateful prayers were prayed.
And the people in the streets below were dancing round and round.
And guns and swords and uniforms were scattered on the ground.
Last night I had the strangest dream I ever had before.
I dreamed the world had all agreed to put an end to war.